In Administration, click the House icon for the Corporate Organization where you want to build the show.

If you only need to build the show for one Sales Organization (e.g. Admission, 2023 Festival, Women's Basketball, etc.), open the blue Sales Organization folder that should house your show.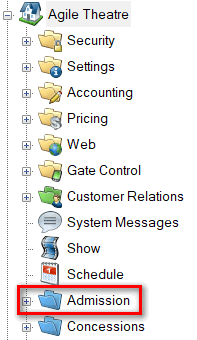 If you need to use the Show in more than one Sales Organization, click the Show icon at the top level of the Corporate Organization and proceed to Step 2. This will allow you to build the Show meta-data only once and use it at all venues and Sales Organization folders.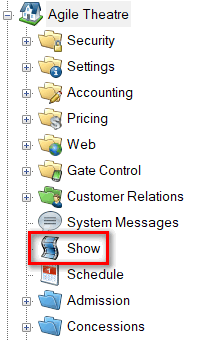 1. Select Show.
You will see four sections that house information about your event:
Show – This is where you will build the information about the show, film, or event.
Showing – This is where you will associate the day, date, and time of your event with a specific venue. Note: Venue Templates should already be built before you add your showing times. To learn how to build a Venue Template, click here.
Tier / Inventory – This is where you will manage the inventory for a specific showing. Venue Templates should have the total capacity in place before adding your showing dates.
Event Price – This is where any unique pricing for this event will be added. Note: Some organizations will have the same pricing for all events. In this case, the pricing should be added to the Venue Templates for easy management and addition to all showings.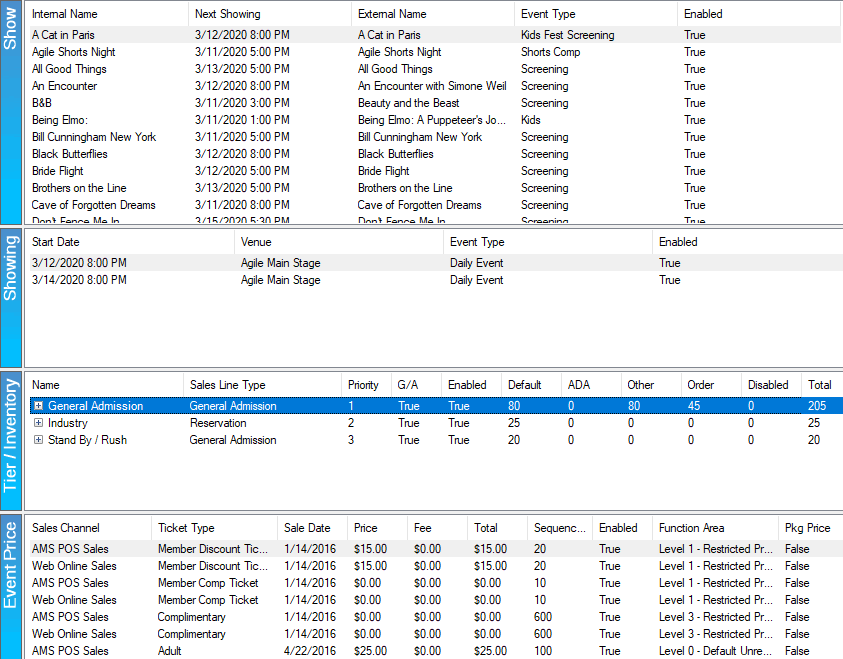 2. In the Show area, right-click and select New.

3. The Show: New window will appear. This is where you will begin filling out information about the show/film.
****If you are needing to create a Virtual Event CLICK HERE, otherwise continue****
4. In the General tab, you will select the Event Type, add the name of the Show/Film in the External Name and Internal Name fields, add the Duration of the Show/film, and then, if necessary, add/select your Distributor. If you send gross money reports to Rentrak, make sure to check the box next to comScore (Rentrak).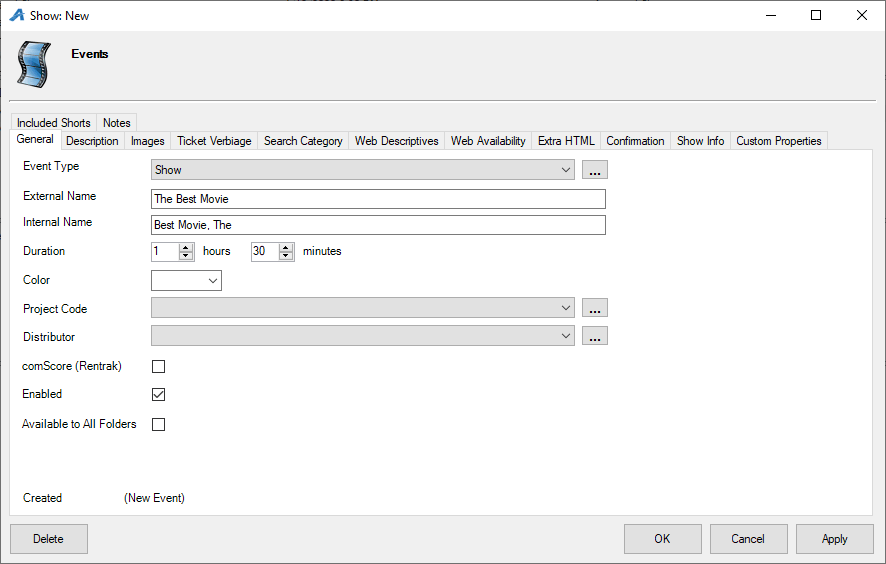 5. Description – This is where you can add a full description of the show/film.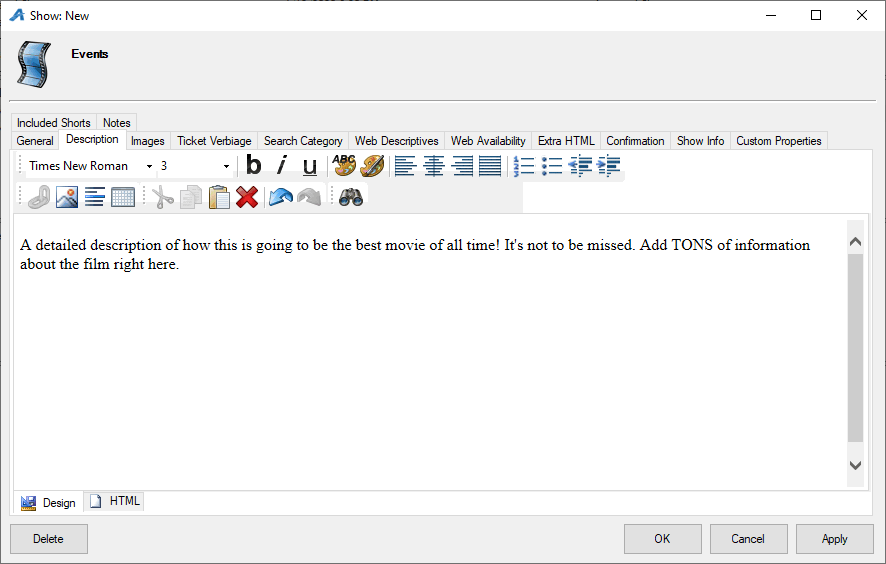 6. Images – This is the tab that you will use to upload images and videos that will appear on the event's page online. To an upload image, click the Upload arrow and select the image that will become the Main Image and Thumbnail Image. To add additional images, click Add Image. To add a trailer, click Add Trailer and add the YouTube or Vimeo embed link. Click Preview to finalize the trailer.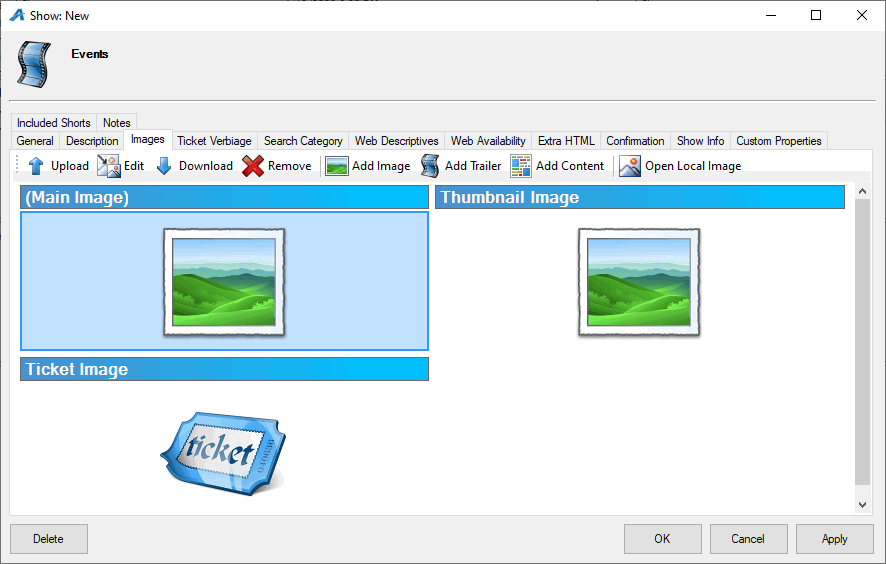 7. Ticket Verbiage – This is where you can add specific information that needs to appear on the ticket (Note: most ticket formats pull the elements directly from the database, but these fields can be added to the ticket formats if you need special information to appear on the ticket).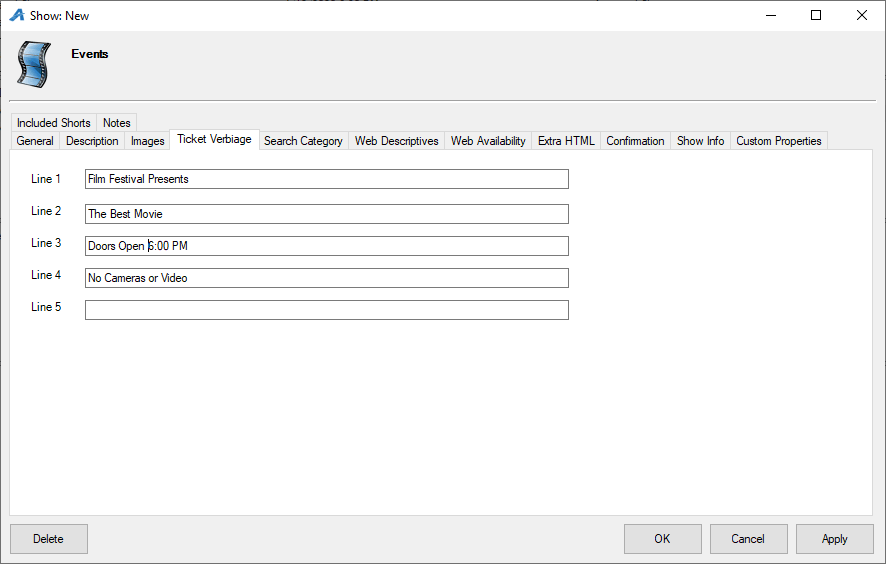 8. Web Descriptive – This is where you can add a short description of the event that will appear with an event's thumbnail image.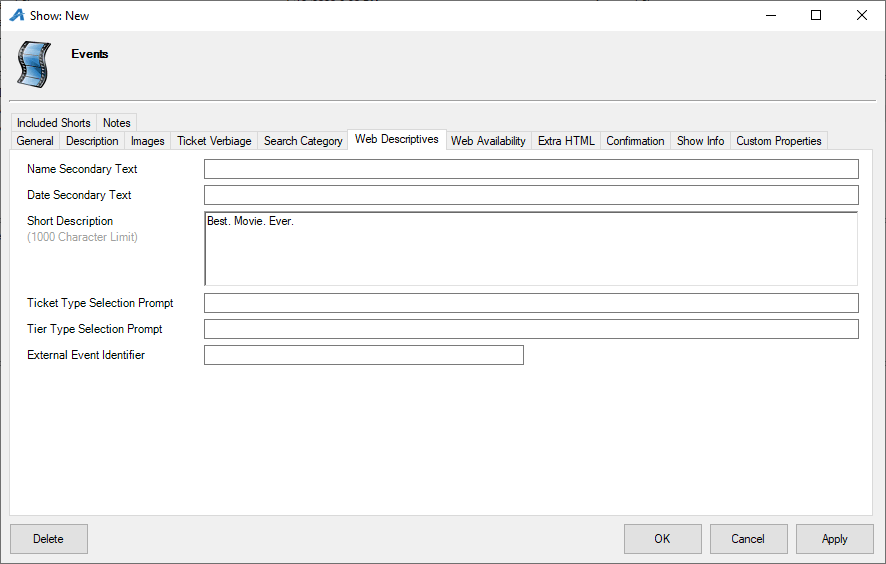 9. Web Availability – this is an area where you can put additional information about a sold-out performance. (Most film festivals use this to give specific instructions on how to get tickets via Rush or Stand by Line).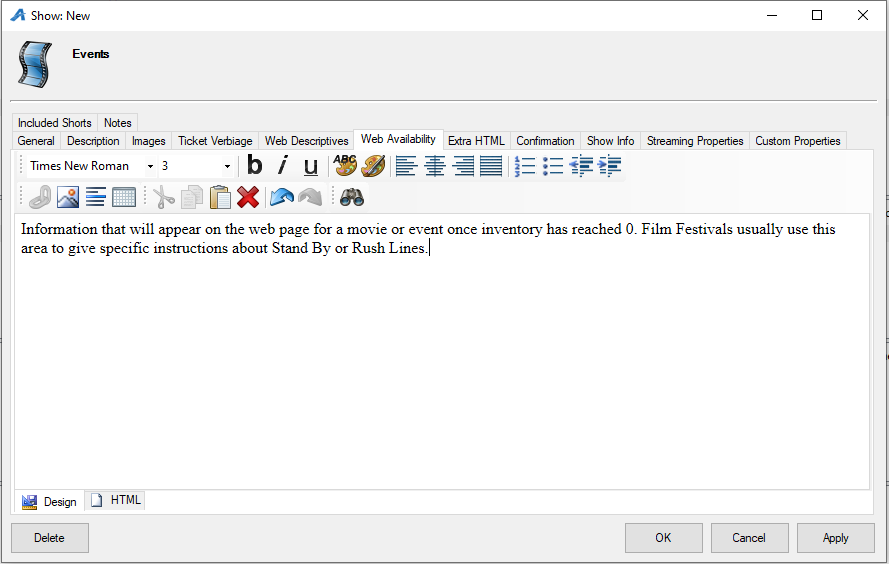 10. Extra HTML – This will allow you to add additional information about the event that will show up on the ticket page online.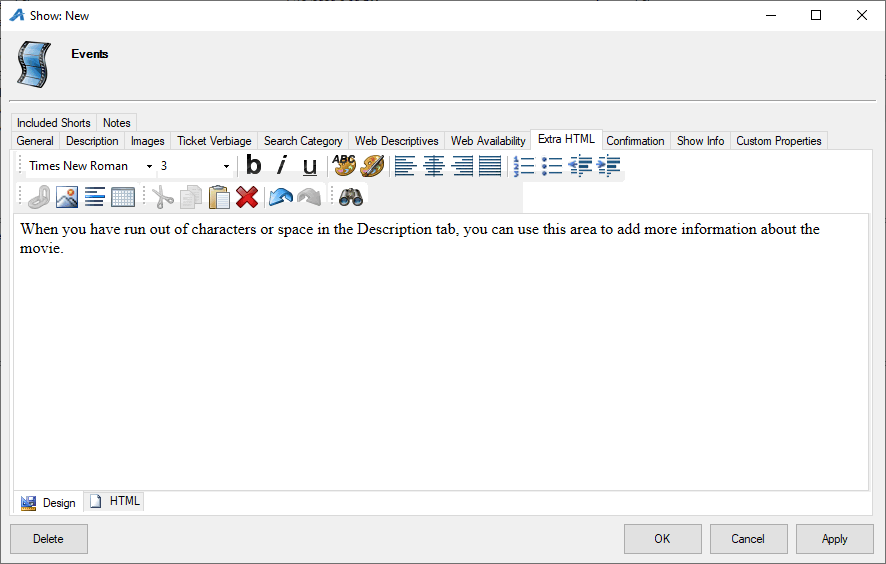 11. Confirmation - This tab allows you to add confirmation text about this specific event which customers will receive via email confirmation once their purchase online is complete.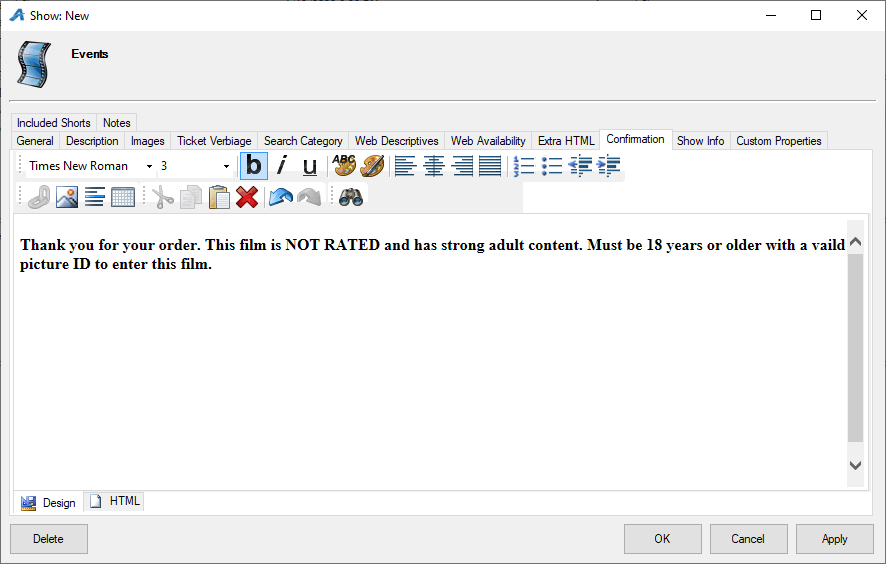 12. Show Info – This area is generally used for sponsorship information and logo image for this specific show.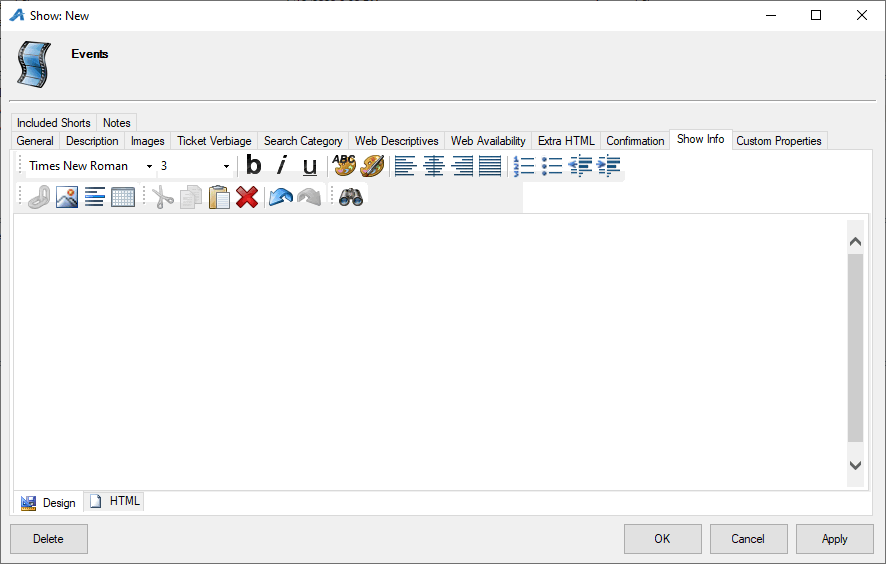 13. Custom Properties – These properties are specified by the organization but are generally used for information about a specific show/film (i.e. Run Time, Country of Origin, Cast and Crew, etc.). If you curate a special list of highlighted events for web sales, you may also have a "Highlighted Events" property. (You can CLICK HERE learn how to use this feature). This is also where you can set a Category filter for Category Scroll entry point setup.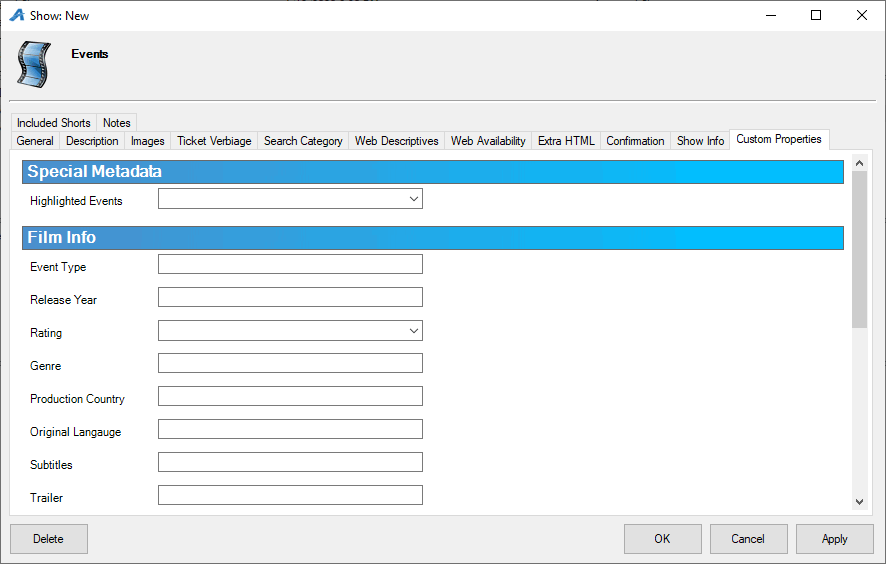 14. Included Shorts – This is generally used by Art Houses and Film Festivals that either show short films prior to a feature length film or have a shorts program with many shorts combined into a feature-length show.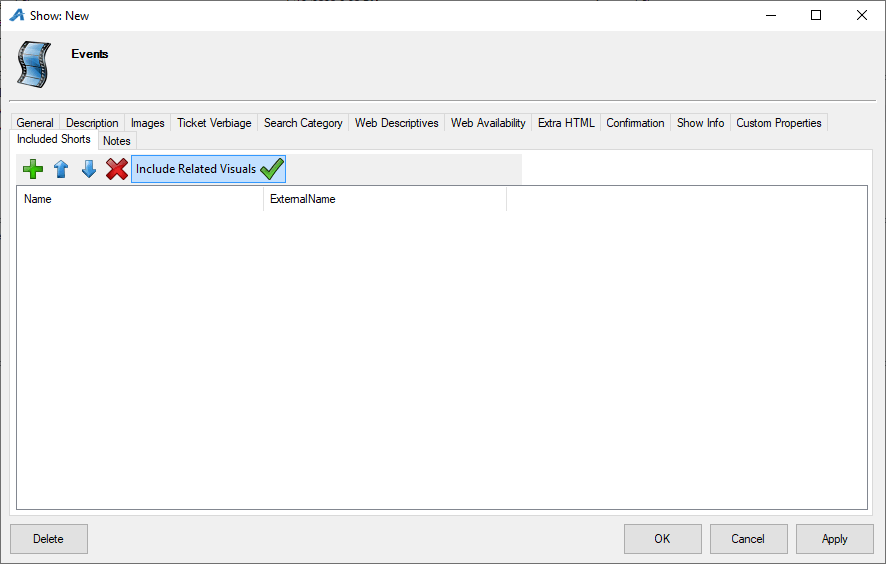 Once you have filled out the information for the show, you are now ready to add your showing dates and times.
15. Select the Show. In the Showing area, right-click and select New.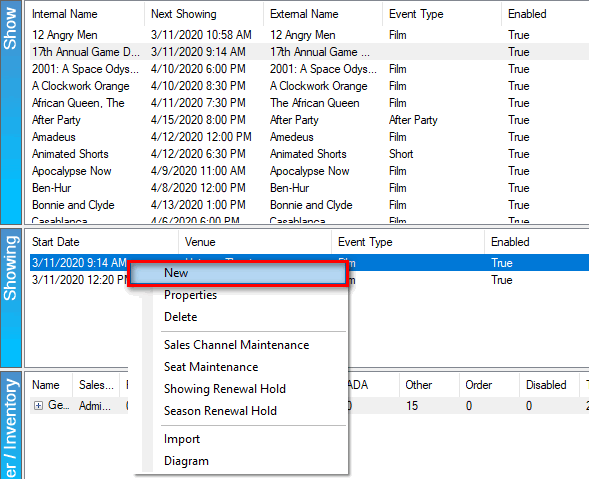 16. The Show: Copy window will appear.
17. Select the Template/Venue that is associated with this screening's date and time.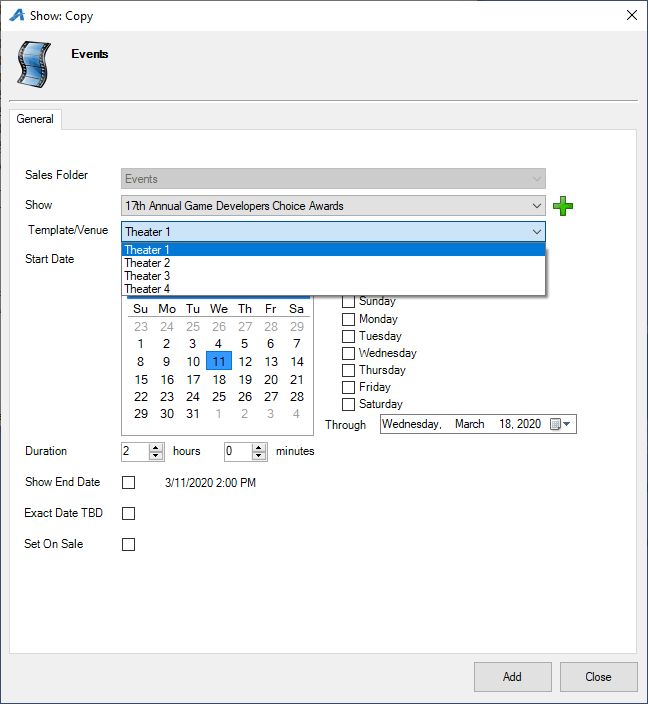 18.Choose the Start Date and Time of the screening.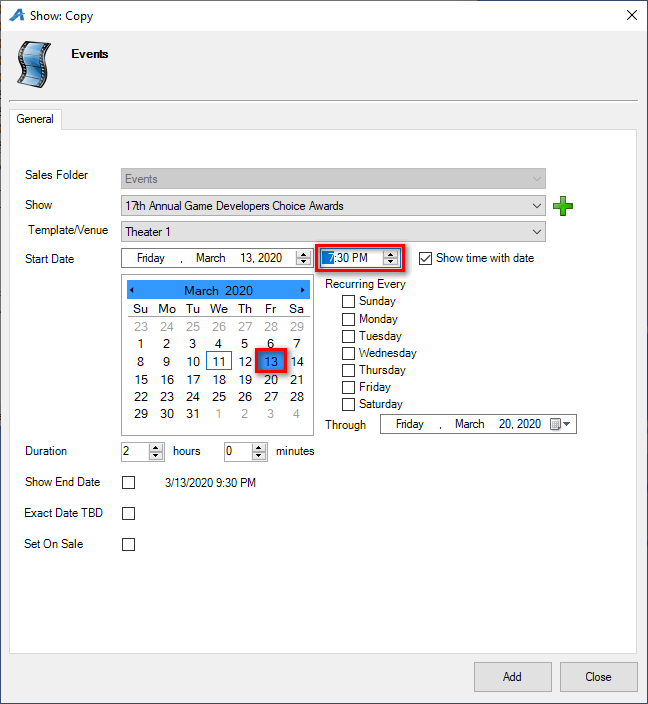 19. Recurring Showing Every allows you to copy the same Venue Template and Showing Time to the days of the week of your choice. For the Through date, make sure to select the last date to which this template and time will be copied.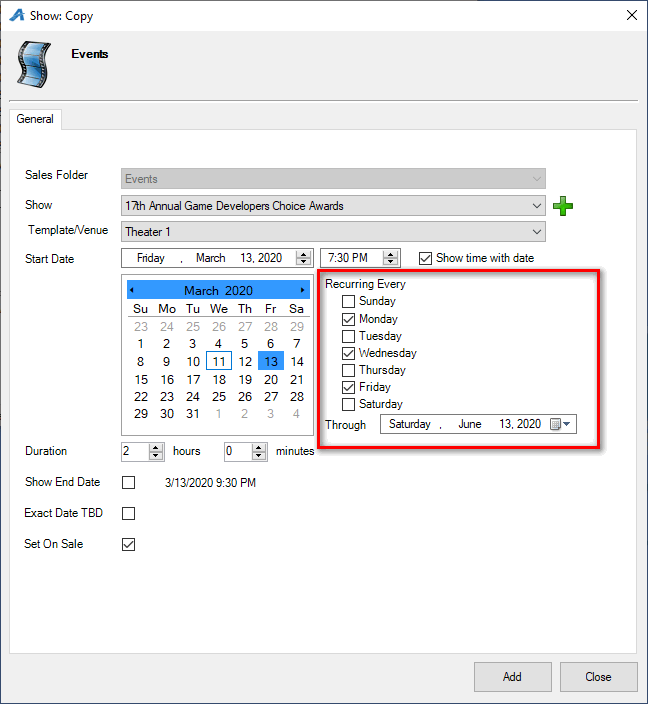 20. If you are ready for this showing to be set on sale, check the box next to Set On Sale. Click Add to add the date(s) and time(s) of the showing.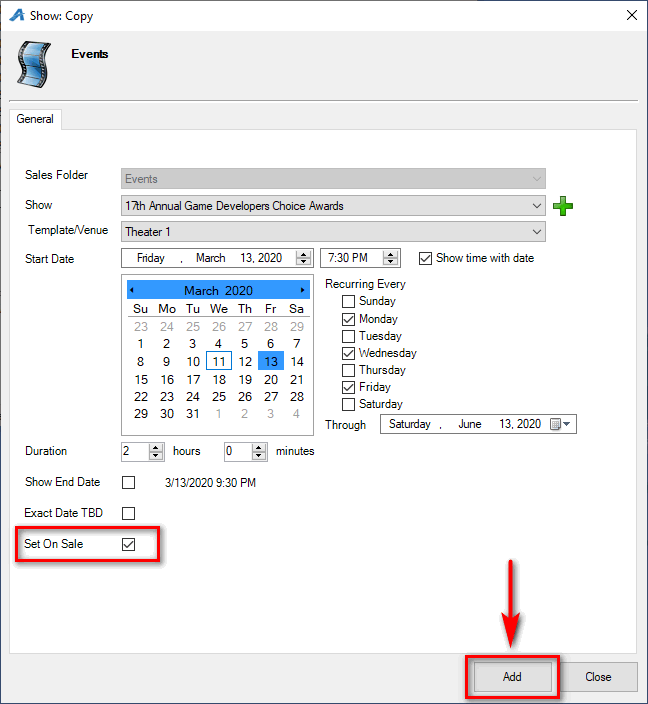 Addendum: If this Showing is coming from a Show that has a mixture of Virtual and In Person Showings you will see an option for Content Delivery with the options of In Person and Streaming/Virtual. Select the type of Showing this event will be and then you can hit the Add button.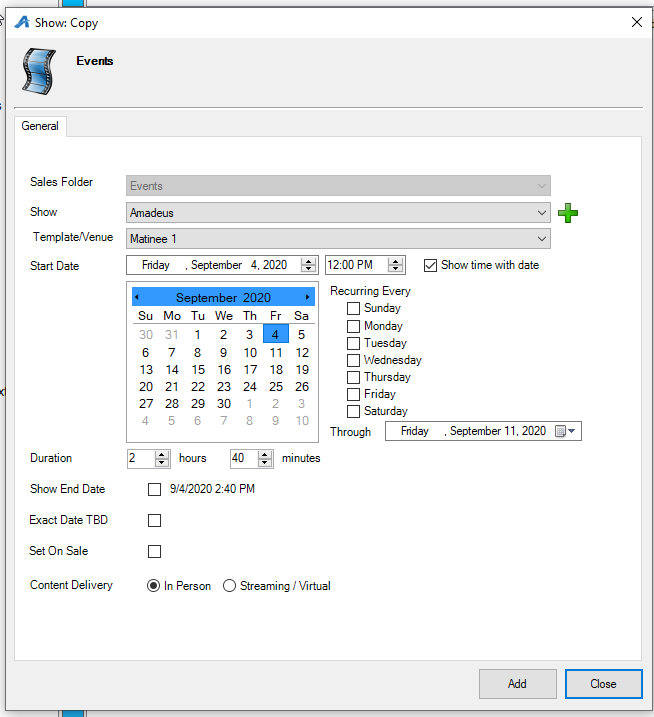 21. The Show: Copy window is designed so that you do not have to close the window to create multiple showings at once. If you need to create other showings at different times or with other templates, repeat Steps 17 through 20 until all the showings are built. Then, click Close.