1. Login to Web Portal.
2. On the left side of the page, select the Gift Card button. (If you do not see a Gift Card button on the left side of the screen, please contact your support representative.)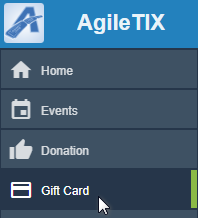 3. At the top of the page, select the red Add Gift Card button.

4. The New Gift Card window will appear. Use the Select Folder drop-down menu to select the Sales Organization folder which houses your Gift Card program. Then, select the Continue button.

You may now begin the process of defining the features of your gift card. Throughout this process, click the Save Changes button at the bottom of the screen to save your work. In case of an accident, we recommend that you save your work frequently while you enter the information about your gift card.
1. Under the Properties header:
Type the Gift Card Program Name.
Assign a Sales Line Type and Revenue Account.
Give the program an Internal Name. Note: Internal names can only be seen by staff.
If you have predetermined amounts for your gift cards, enter them into the space provided and select the Add button. If you want to give the customer the ability to enter an open amount, check the Allow Open Amount Entry Box.
For Production Type, choose either Internal or External:

Internal: The Gift Card/Certificate is produced by Agile (i.e. Print At Home Gift Certificate that has the Gift Card Number populated on the certificate).
External: The Gift Card/Certificate is pre-printed, and you will be swiping the card/certificate to assign the number to the customer.

Next to Available Delivery Methods, check the box next to each delivery method you wish to use for the gift card.
2. Under the Sales Channel Availability header, define the Sales Channels on which to put the Gift Card Program on sale. Simple Mode allows you to put the gift card program on sale for every Sales Channel for the same Start/Stop dates. Advanced Mode allows you to pick one or more Sales Channels and set individual Start/Stop dates for each if needed.

You may use the other sections of this page to provide further information about your Gift Card Program:
Under the Descriptives header, you may enter information for customers to read about the gift card program.
Under the Images header, you many insert any image you wish to appear on your gift card program's web page.
Under the Questions header, you may define specific questions you would like for customers to answer about the gift card. Often this is used to set up a gift card message and an alternate shipping name and address.