When uninstalling the Agile Ticketing application you may get the following error message.
"Error 1001. Exception occurred while initializing the installation: System.BadImageFormatException: Could not load file or assembly 'file:///C:\Program Files (x86)\Agile Ticketing Solutions\Agile Ticketing\App\ATS_Login.exe' or one of its dependencies. This assembly is built by a runtime newer than the currently loaded runtime and cannot be loaded."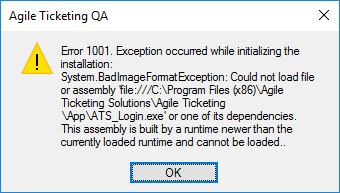 You can resolve this issue by downloading the Microsoft Tool for troubleshooting install/uninstall issues and following the instructions below.
After clicking on the link above, scroll down to and click the "Download" button. Save and open this file to start the troubleshooter.




Once the troubleshooter opens click "Next" to start the process of fixing the installation.




Wait a few moments while the troubleshooter detects problems with your installed applications.




When the troubleshooter asks if you are having problems installing or uninstalling, choose "Uninstalling."




Select "Agile Ticketing" from the list of applications to "Uninstall".




Click the "Yes, try uninstall" option to uninstall and cleanup the application.




Once the process has completed, you will get a confirmation that the application uninstall has been fixed. You can close out of the troubleshooter by clicking the "Close" button.