A Ticket Assignment Policy (formerly called the Comp Policy) allows organizations to create a certain set of rules that will allow you to assign additional tickets to a single ticket purchase. You can use this feature to build a BOGO promotion. Or, if you are selling Tables, it will allow you to bundle all of the seats at that table to be purchased under a single price. You can also use a ticket assignment policy to make sure a reserved parking space or box will come with certain number of general admission tickets. Before proceeding make sure that you have both the assigning and assigned ticket prices built and ready to go.
1. Log into Web Portal
2. Select Events, Showings, and then the specific show for which you want to create an assignment policy.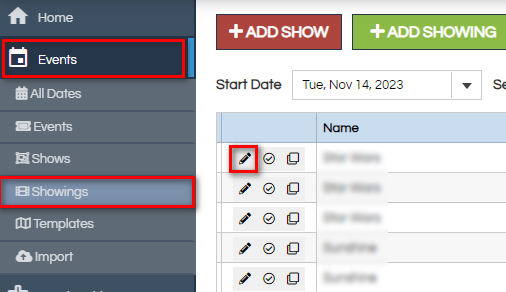 3. Scroll down to the Pricing and Inventory tiers, click on Edit Admission Tier.
4. Click Assignment Policy to open that tab and begin building.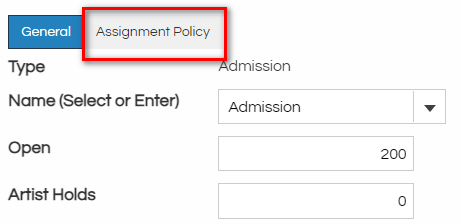 5. To set up the Assignment Policy first choose a Ticket Type, this is the ticket that a customer will purchase to trigger this rule. Next set the Initial Quantity which is how many tickets a customer must purchase to trigger this rule and finally the Additional Quantity which is how many extra it takes to trigger it again. Finally, set the Sales Channels you want this to apply to where it is advised to select them all. In the example below the policy will trigger any time someone buys two Adult tickets and again for every 2 they purchase.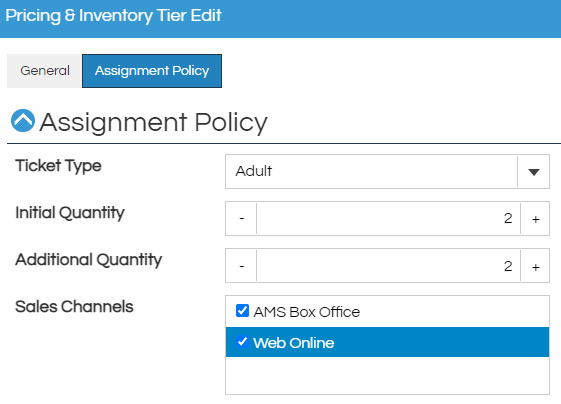 6. In the Assign these Tickets section click on the down chevron at the Tier to start picking the ticket customer will have assigned to them. The Event section will auto populate with the showing you are working on and the Tier drop down will list out the available options for this showing tier.

7. Now that a Tier has been selected and the Event has populated you must pick the ticket customers will have assigned to them in the Ticket Type column using the drop down chevron and decide how many tickets of this type customer will be getting in the Assignment Qty field. Make sure Enabled is checked for this to be active and if you see a (-) in the Sales box this policy has already been used to assign tickets

8. From here if you need this showing to have another assignment policy click the Add New Assignment Policy button otherwise click Accept to save and move back to your showing page.