As an administrator in the Agile Web Portal, you can edit User Profiles. The User Profile is where you can change passwords, manage security roles, and clear failed logins.
1. In your internet browser, log into your organization --portal.agiletix.com.
2. Click on the User icon at the left of the screen, or, if you want to edit your own profile, you can click one the letter in the top right corner.
3. Select the edit button next to the User Profile that you need to edit.

4. To change the password for a specific User, click on the on the Change Password icon at the bottom of the screen. Enter the New Temporary Password for that user and then checkmark the Require Password Change at Next Login box. This will force the user to create their own password when they next log in to the system.
5. If the user has tried and failed to log on multiple times, you as the System Administrator can clear the failed attempts from the account by clicking on the Clear Failed Logins.
6. Within the user profile, you can edit the user's AKA Name, Email Address, Phone Number and Cell Number.
7. Checkmark Receive Agile Communications if this user has permission to receive emails pertaining to Agile and the Software Updates.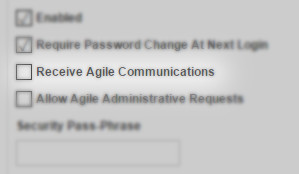 8. Checkmark Allow Agile Administrative Requests if this person can make administrative decisions for our organization.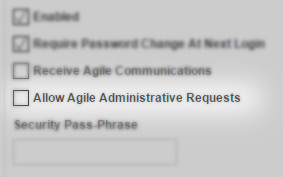 9. Entering in a Security Phrase allows the Agile Client Support staff to authenticate that they are the User and have permissions to make changes to that account.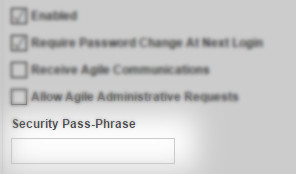 10.Within the customer profile, an administrator has the ability to change the Security Role of a User. This will change the permissions of the User within the entire Agile Ticketing Solutions system.
NOTE: as of December 16, 2020, we have added different security roles to include specific departments to help us with our communications. Please check all security roles and departments that apply to each user.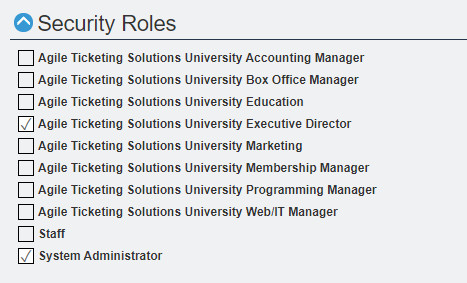 11. Once you have made all of your changes, click on Save Changes.
DISABLING USERS THAT ARE NO LONGER WITH YOUR ORGANIZATION.
To disable a user that is no longer with your organization, follow these steps.
1. In the web portal, click on the Users icon from the menu at the left of the screen.
2. Click on the pencil icon next to the username you are changing.

3. Uncheck the box next to Enabled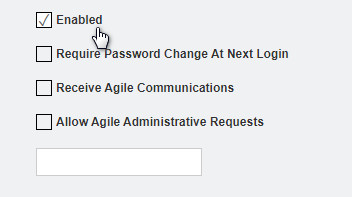 4. Click Save Changes at the bottom of the page.